How to find us
Visitors are most welcome to visit Alan at the studio situated only 2 kms from Clifden on the main N59 road to Westport, where you can also see the feltwork landscapes by Alan's wife Sandra.
Opening times approximately Normal opening times Mon-Fri   1200 – 1800 (1900 July and Aug) daily and sometimes on Sunday afternoons.
Closed January and February –
However you can also phone for an appointment.
Phone: +353 (0)95 22786
Alan Gaillard Ceramics and Irish Pottery
The Stone House
Letternoosh, Westport Road
Clifden, Connemara
Co. Galway, H71 VY45, Ireland
GPS Co-ordinates:
Latitude: 53.50323
Longitude: -10.03084
If you would like to comment, or order pottery, or have us reserve some specific items for you to collect when you call to the Studio. Orders for non-stock items should ideally be made 6-8 weeks earlier.  If you prefer please email me at mail(@)alangaillard.com. Please remove brackets.  Thank you.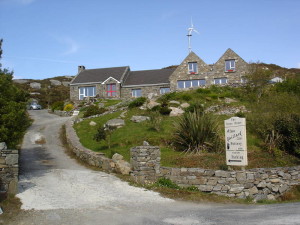 Links of interest:
Link to Book by Alan Shattock
"Dreaming in Dijon" Available on Kindle (free to Kindle members) and on Amazon (book or download).
www.jimbehanceramics.com
Jim is a wonderfully creative potter making mainly reduction and saltglazed one-off pieces.
O'Dalaigh Jewellers, Market Square, Clifden
www.celticimpressions.com
Well worth a visit if you are looking for celtic handmade jewellery.