How to find us
Visitors are most welcome to visit Alan at the studio situated only 2 kms from Clifden on the main N59 road to Westport, where you can also see the feltwork landscapes by Alan's wife Sandra.
Opening times approximately Normal opening times Mon-Fri   1200 – 1800 (1900 July and Aug) daily and sometimes on Sunday afternoons.
Closed January and February –
However you can also phone for an appointment.
Phone: +353 (0)95 22786
Alan Gaillard Ceramics and Irish Pottery
The Stone House
Letternoosh, Westport Road
Clifden, Connemara
Co. Galway, H71 VY45, Ireland
GPS Co-ordinates:
Latitude: 53.50323
Longitude: -10.03084
If you would like to comment, or order pottery, or have us reserve some specific items for you to collect when you call to the Studio, why not drop us a note here. Orders for non-stock items should ideally be made 6-8 weeks earlier.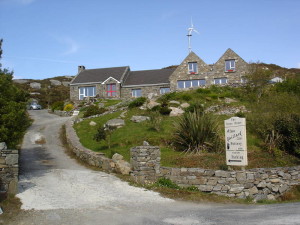 Links of interest:
Link to Book by Alan Shattock
"Dreaming in Dijon" Available on Kindle (free to Kindle members) and on Amazon (book or download).
www.jimbehanceramics.com
Jim is a wonderfully creative potter making mainly reduction and saltglazed one-off pieces.
Sandra O'Connor's feltwork
on Connemara ArtLink
O'Dalaigh Jewellers, Market Square, Clifden
www.celticimpressions.com
Well worth a visit if you are looking for celtic handmade jewellery.